Dolf DeJong
One of the great things about my career choice is that I spend considerable time with people who care passionately about animals. Many of the trainers, veterinarians, biologists and educators see the animals in their care as co-workers and members of an extended family. They often spend more time with these animals than their loved ones at home! We can always count on them to do everything in their power to meet the animals' complex physical and social needs. For these people, it is not a matter of a 9 to 5 job where they punch the clock, their commitment and enthusiasm goes beyond and is inspiring and infectious!
At Oceanografic one of the staff I have the privilege of working closely with is Jose Luis Crespo, the Veterinarian responsible for the aquariums conservation programs. His job is to provide world class care to rescued animals and you will find him at all hours of the day, from Burriana to Murcia, doing his part to help individuals from a wide range of species.
Building relationships with local fishermen to have them report and rescue turtles that were bycatch and potentially suffering from decompression sickness.
Testing lung capacity in a rescued Loggerhead sea turtle. What has been amazing to observe is how far Jose Luis's dedication extends. It goes well beyond the expected species such as sea turtles and includes any injured or abandoned animals he crosses paths with. He also capitalizes on every opportunity to educate individuals to modify their behaviours in the interest of protecting animals, working for the individual today while investing in people to protect the species in the long term. He is one of the many great people I work with who go above and beyond to look after the well-being of animals.
After eight months together, here is a collection of snapshots of one of Oceanografics many "animal champions" in action! On behalf of all the animals helped and individuals engaged, thank you Jose Luis and team!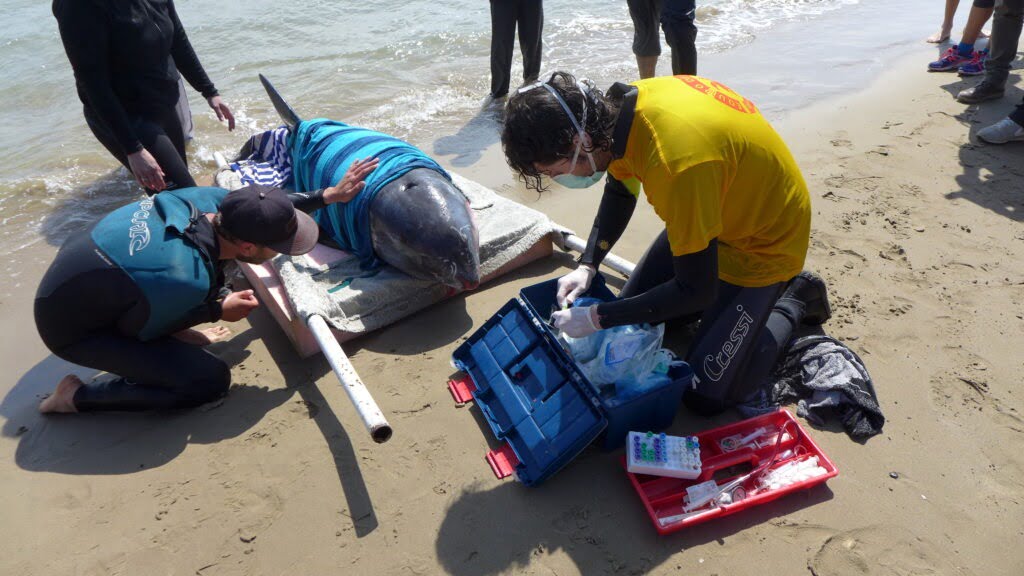 Diagnosing a stranded Risso's Dolphin to determine if the animal can be rescued and rehabilitated
Participating in a research program to learn how to breed endangered Eels to reduce the pressure on wild populations
Showing a Viperine Snake (Natrix maura) found in the gardens at Oceanografic to the education team prior to returning to the river bed.